The first weekend of the PUBG Continental Series 7 Grand Final was packed with interesting stats. The 15 matches played were filled with kills, heals, molotovs and hundreds of miles on the tires of vehicles around Erangel and Mirarmar. It was a weekend to remember.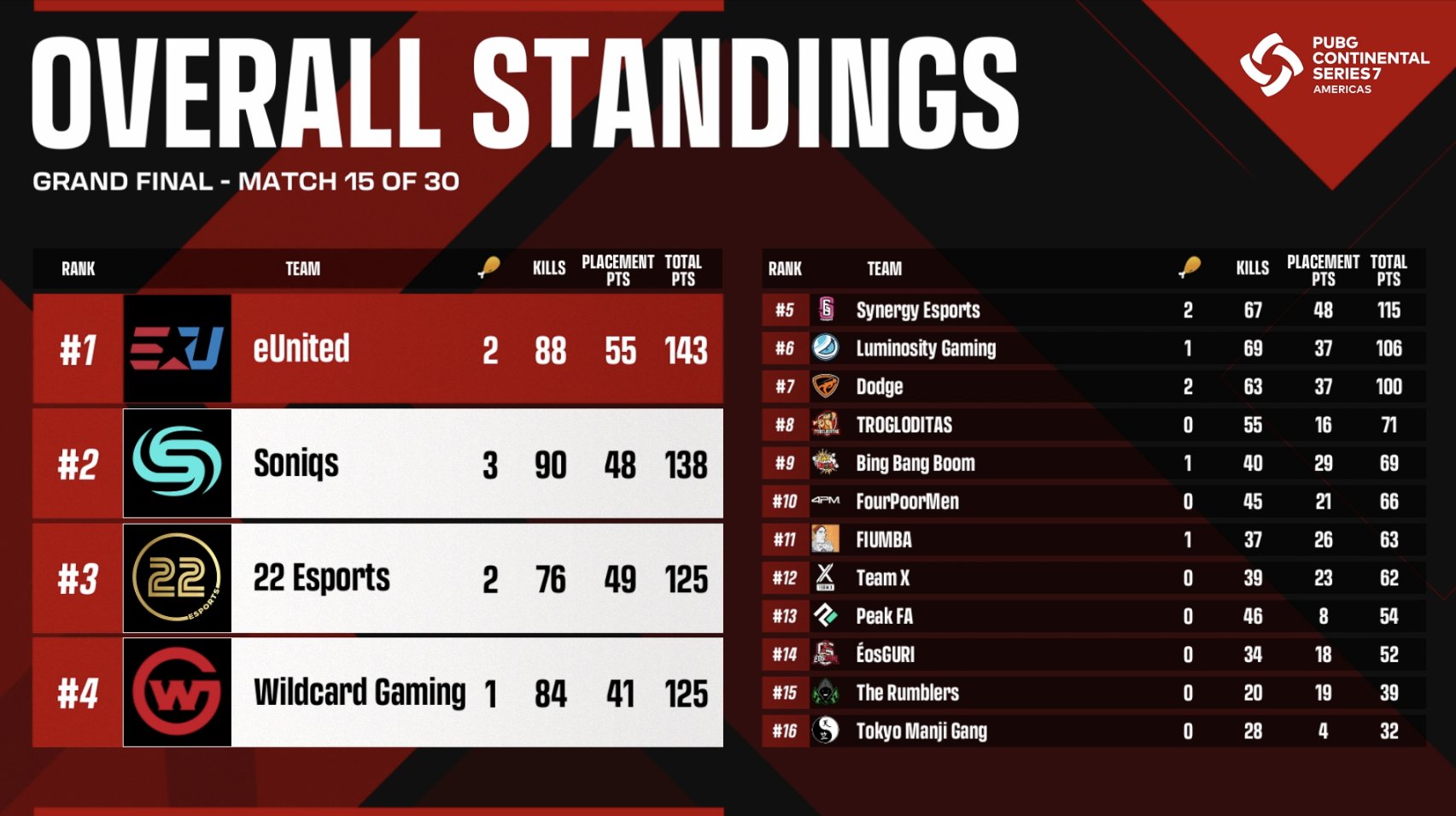 While eUnited and Soniqs may hold a lead over the other 14 teams, a pop off in the second weekend could close that gap. Let's break down who performed well in the first weekend to see who might close that gap this weekend.
22 Esports leading the way
22 Esports' Guilherme "Guizeera" Barbosa popped off in spectacular fashion over the first 15 matches. The Brazilian scored a weekend-high 44 kills – more than half of his team's overall kills – in a series that led him to earn a 4.1 K/D. We knew Brazil was aggressive, but this man was playing on another level compared to everyone else.
He earned 14 more kills than the next player on the leaderboard and 30 more than any other player on his team. He single handedly carried his squad to a top three finish during the weekend. If he keeps this up then there is little doubt that 22 Esports will see more success in the final weekend of the PCS7 Grand Final.
Soniqs' tale of six matches
Six matches beautifully illustrate the dichotomy of success for Soniqs. The best team in North America earned three chicken dinners over the first weekend. Their first win – that came in the first match of the tournament – saw the squad net 15 kills. Soniqs earned 14 and 13 kills in their second and third wins, respectively. These three chicken dinners showcase how explosive Soniqs can be when everything clicks for Tristan "Shrimzy" Nowicki and company.
Soniqs also earned three third place finishes in the first 15 matches. A third place finish – while not a victory – is important for success within the overall tournament. Soniqs earned 16 kills in all three of these matches combined, which isn't much compared to their performances that led to a chicken dinner.
These two types of performances show how much of a complete team Soniqs has been. This four man squad will go on a killing spree when needed, but will also place high when the kills don't come their way.
Damage can be a Wildcard
Gregorio "GregShotGG" Jardin came out of the first weekend bloody and beaten, but still successful. The Wildcard Gaming player took a weekend-high 5095.4 points of damage, with only 625.8 points coming from the zone. That's 4279.6 points of damage from enemy guns, grenades and elsewhere. Yet, Wildcard Gaming still finished fourth in part due to GregShotGG's positive 1.1 K/D. This professional wasn't going down without a fight.
This, of course, wasn't a solo effort. GregShotGG was knocked 24 times and his team managed to pick him back up 11 times. GregShotGG's damage sponge of a body helped his teammate Nathan "Ykikamucoww" Lynham heal more than anyone else over the weekend.
GregShotGG recovered a total of 3542 points of health. These teammates lookout for each other.
Aim for the head, land on top
The three players with the most headshots kills over the first 15 matches of PCS7 come from the top seven teams on the leaderboard. Dodge's Simon "Corsac" Molinghen earned nine while Soniq's James "TGLTN" Giezen and eUnited's Matt "Kickstart" Smith earned eight. The best teams position themselves to nail enemies in the noggin and the rest of the leaderboard makes that clear.
Players from 22 Esports, Synergy Esports, Wildcard Gaming and others on the top of the standings fill out the other top spots on the headshot kill leaderboard. Other players from eUnited and Soniqs are close behind.
While anyone can aim for the head, the players that engage the enemy often and strategically will get more opportunities to land those critical hits.
Where to watch the rest of the PCS7 Grand Final
The second weekend of action can be watched on the official PUBG Twitch and YouTube channels. Here is the schedule for the remaining three days of play:
Day 4 – Sept. 23 4:00 pm PDT
Day 5 – Sept. 24 4:00 pm PDT
Day 6 – Sept. 25 4:00 pm PDT
PCS7 is one of the final competitive PUBG tournaments of the year so stay tuned for all of the remaining action.
See you on the Battlegrounds!
WHERE TO WATCH / FOLLOW
Check out our PUBG Esports content channels for VODs and streams:
Be sure to follow PUBG Esports on social media to stay up to date on all the action.