So, about those comeback scenarios… The start to Week Three in the PCS2 NA Grand Final solidified our current leader following an impressive pair of wins on Miramar. The back-to-back chicken dinners set Soniqs well out in front of the nearest competitor, to an extent, that they may have crowned themselves PCS2 NA Champions one day ahead of schedule! That said, PUBG Esports is notorious for producing intense and chaotic final-day matches that force teams up and down the leaderboard. With only four matches to be played, our sixteen teams will leave everything on the battlegrounds in hopes to improve their final-day standing.
While fighting for first-place may not be realistic for a couple of teams, the goal to close out PCS2 on a high note extends to every team throughout the leaderboard. The best obtainable standing, maximizing potential prize money, and overall bragging rights become the central objective for most teams going into this evening's PCS2 finale.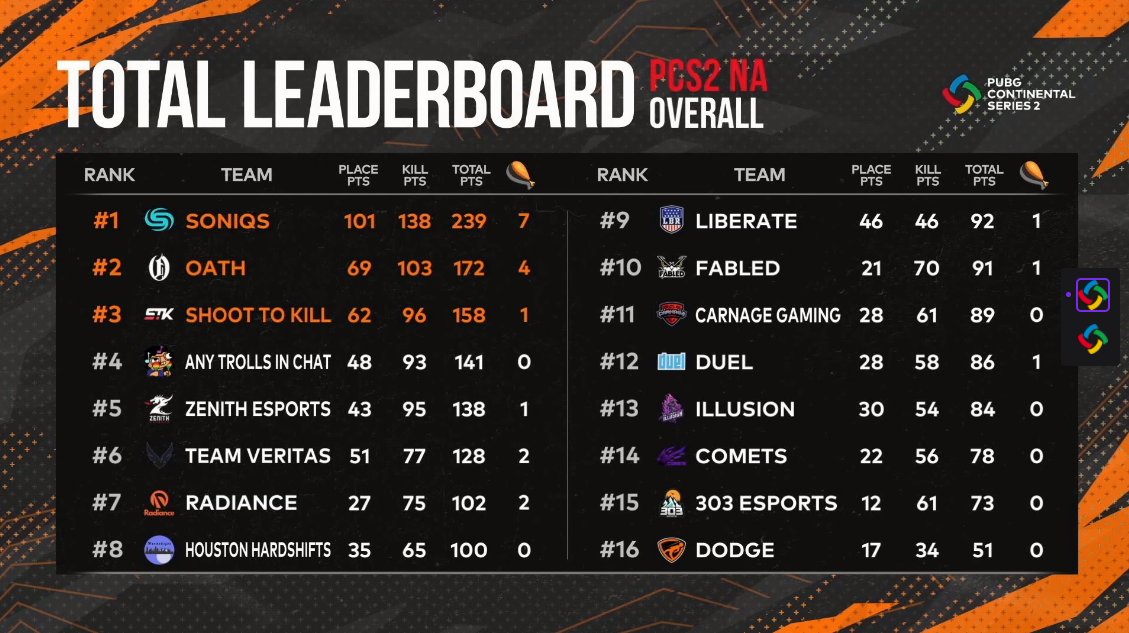 FIGHTING FOR SECOND-PLACE
If you were to pluck our current leader from the overall standings, it would resemble a more familiar leaderboard heading into the final day of an event such as PCS2. The two squads competing behind Soniqs for second-place are the remaining two members of North America's "Big Three".
Oath Gaming and Shoot To Kill each had their fair shot at reaching Soniqs at some point in this tournament. Oath managed to win two of the four matches played yesterday – the only issue is that Soniqs won the other two. Despite their recent success on Miramar, they sit well out-of-reach of catching Soniqs, and are only fourteen points ahead of Shoot To Kill.
During the final four matches of the PCS2 Grand Final, Shoot To Kill and Oath will be competing against one another for the second-place position, which carries an enticing prize of $30,000 USD and 15% of the Pick Em' Challenge NA revenue. That's compared to the third-place award of $24,000 USD and 12% of the community-funded prize pool.
THE UPPER-ECHELON
Any Trolls In Chat, Team Veritas, and Zenith Esports are locked in a three-way fight that's worth keeping your eye on during the final four matches. Each of these teams has experienced an up and down Grand Final thus far but remains within reach of a top-four placement. If they play well this evening, Any Trolls In Chat could find themselves in the third-place position. This would be well deserved based on the team's impressive play during the Grand Final and the individual play from "Marcelek" as the second-overall player in Kills.
Team Veritas hasn't quite had the tournament many anticipated considering their PCS1 performance, but the opportunity to place within the top-five is still available and would give this team another solid step towards PCS3. Entering the final day, Team Veritas is sitting thirteen points behind fourth-place and thirty points behind third. They'll have their work cut out for them if they want to place within the top three, but a solid showing tonight should secure them a decent share of the prize pool. Meanwhile, Zenith Esports isn't a team you can glance over when viewing the current leaderboard. They'll be fighting for the same objectives, a top-five placement, and a fair share of the prize pool.
MIDDLE OF THE PACK
The same point differential separating third and fourth-place separate six teams spanning from seventh to twelfth. This group of teams has the most potential for a major rise or fall in tonight's four-match finale. Radiance currently sits atop this group with 102 points entering the final day and will have the likes of Hardshifts, Liberate, and Fabled trailing directly behind them applying the pressure. Any one of these six teams could surprise us with a major final day performance to climb up the leaderboard – but which one is most likely to show up on Erangel?
WE'RE JUST HAPPY TO BE HERE
It's no secret that Dodge just hasn't looked like themselves since the start of the PCS2 Grand Final. The team has struggled to find any success on Miramar or Erangel and currently dwells at the bottom of the leaderboard with just fifty-one points. Considering the team only has four matches to resurrect themselves from the sixteenth position, I'm expecting Dodge to play without any constraints throughout our four-match finale. At this point, the team has nothing to defend or play safe with, just enjoy the end of PCS2 and see if you're able to generate any positives traveling into the PCS3 Group Stage.