We're off and running in the PCS4 Americas Grand Final! A strong start from our Pick Em' Challenge leader set the stage for an exciting second day of action as we wrapped up the opening week. With the 'Most Chickens' ruleset in effect, crowning the Week One champ wasn't possible until after the twelfth and final match came to a close.
We received our first look at each of the sixteen Grand Final teams, who showcased their talent and demonstrated the widespread parity in this series. We were also given our first look at the new ruleset – as teams embraced a 'win at all cost' mentality while other teams struggled to adjust. The toughest challenge for any team in this event could end up being their old habits. Playing overaggressive and making decisions motivated by kill points is only going to take you so far when the Chicken Dinner is the ultimate goal.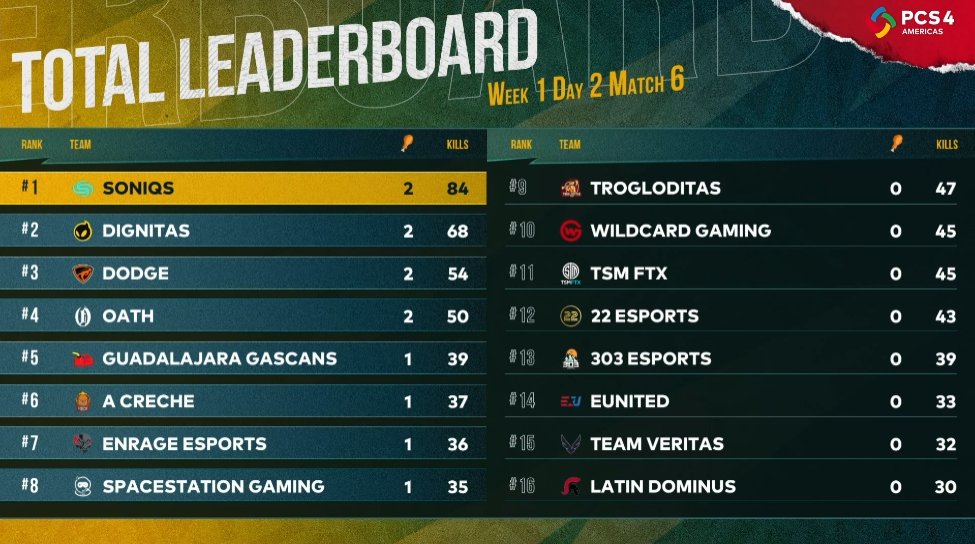 Eight teams shared the twelve Chicken Dinners this past week, earning themselves a piece of the Week One prizes. Moving towards Week Two, it will be interesting to see what teams are able to learn from these matches and apply to their strategies on Thursday.
 SONIQS IN GRAND FINAL FORM
From the start, Soniqs demonstrated why they're recognized as one of the world's best teams. Collecting a total of 84 kills in only twelve matches, the Soniqs averaged 7 kills and 1,200 damage dealt each round in their Week One campaign. The Soniqs played true to their brand of PUBG, and it paid off. Despite a format change that had the potential to negatively affect a team that historically collects significant points via kills. The team took control of the first-place position following their first Chicken Dinner and would remain at the top of the leaderboard for all but one of the final ten matches.
Once again, TGLTN led the Soniqs in both kills and damage dealt. He finished atop the Grand Final's individual leaderboard after an outstanding performance on Thursday and Friday. Collecting 34 kills over just twelve matches, TGLTN had 11 more than the next player that was not a member of Soniqs. His efforts earned him Player of the Week recognition, an impressive new Alienware gaming laptop, and of course, $20,000 USD towards his team for their first-place performance.
 DIGNITAS ENTERS THE FRAY
After placing second in the Group Stage, Dignitas cruised into the Grand Final with momentum on their side. Quickly, a pair of second-place finishes led to the team's first Chicken Dinner on Day One. Dignitas arguably had the most impressive performance this week with six top-three placements and a couple of wins. It seemed like no matter where the zone shifted, Dignitas would be located within and establishing a foothold towards the center.
Their win on Day Two secured Dignitas the first-place position heading into the final round on Miramar. Unfortunately, their time spent above the others was short-lived as Soniqs quickly claimed their second win in the following match. While they would have preferred to finish out the week on top, their steady play through Week One earned the team second and reaffirmed Dignitas as a dangerous contender in the PCS4 Americas Grand Final.
 DODGE SECURES TOP-THREE LATE
Making it into the late-game with consistency across both days, Dodge picked up their second Chicken Dinner of the week in the final match Friday evening. That win would secure them the third-place position for Week One, sending them above Oath Gaming with just four more kills.
The team's ability to keep four players standing and settle into late-game zones was impressive during Week One. They managed to claim two Chicken Dinners, but their steady performance across both days potentially warranted a couple more if those high-placement games played out differently.