Latin America's KPI Gaming is the winner of the PUBG Global Championship (PGC)'s first Weekly Final and, in addition to winning the prize of $30.000, an automatic qualification spot for the Grand Final.
KPI qualified for the Weekly Final after having won the 14th match in Weekly Survival. In addition to the KPI, North American teams Oath, TSM FTX and Spacestation Gaming were the Americas representatives this weekend.
In PGC 2021, the winner of each of the 16 Weekly Survival matches qualifies for the Weekly Final and once they do, they open a spot for the next team in the Bottom 16 ranking.
The Weekly Final follows the SUPER's Points Rule, where the final positions in each match and the number of kills count towards the overall leaderboard.
After ten matches, five on Saturday and five on Sunday, split on maps Erangel and Miramar, KPI scored 108 points – 68 with kills. The Latin American team scored points in all matches, having one victory, two – 3rd places and three – 4th places as their best results.
With the 1st place in the Weekly Final, KPI has already qualified for the Grand Final, which will be held on December 17th, 18th and 19th. The KPI can still compete in the next two weeks of Weekly Survival, and can go back to the Weekly Final to increase their prize money, but the team is already guaranteed in the decisive phase of the competition.
The South Korean team GHIBLI Esports got 2nd place in the final leaderboard, with 101 points, just 7 behind the KPI. Oath obtained 3rd place, with 78 points.
Leaderboard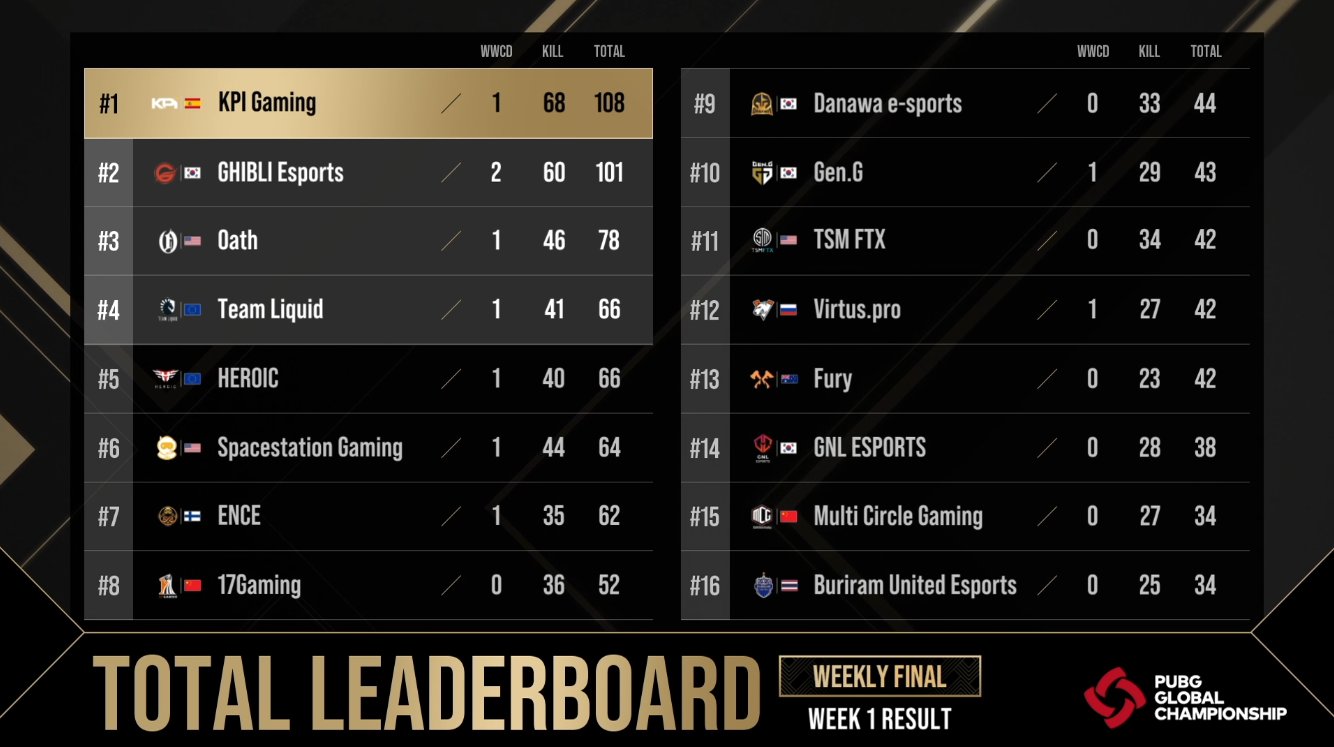 Match by match
Saturday
Match 1 (Erangel): GHIBLI Esports
Match 2 (Erangel): ENCE
Match 3 (Erangel): Oath
Match 4 (Miramar): Spacestation Gaming
Match 5 (Miramar): Heroic
Sunday
Match 6 (Miramar): Team Liquid
Match 7 (Miramar): GHIBLI Esports
Match 8 (Miramar): KPI Gaming
Match 9 (Erangel): Virtus.pro
Match 10 (Erangel): Gen.G
Next phases
The 16 teams qualified for the first Weekly Final will kick off the second Weekly Survival and, as soon as the winners of each game are defined, they will make room for the teams that will participate in the Bottom 16 Rank Decision this Monday.