Qualifiers of the DreamHack Winter Showdown have advanced North America's top ten teams into this weekend's Final. There, they'll meet the top-six teams from the LATAM region in a best-of-eighteen tournament to determine which team is the Americas' best. In addition to regional bragging rights, teams are competing to take home the lion's share of a $15,000 USD prize pool. You can expect to see many of the NA's most decorated teams in action this weekend, as well as one new team that's earned an opportunity to leave an impression on fans to close out the year.
Round Three of the Group Stage Qualifiers featured twenty-four teams all fighting for a spot inside the top-ten on the overall leaderboard. There were numerous teams who performed well during the PUBG Continental Series that found themselves on the outside looking in as the matches came to a close. 'Slappers Only' is a new team consisting of players that many NA fans will be familiar with. If you followed PCS3, they will be the lone new team in this weekend's Final. Some of the notable teams who were unable to advance into the Finals include, Zenith Esports, Guadalajara Gascans, and The Rumblers.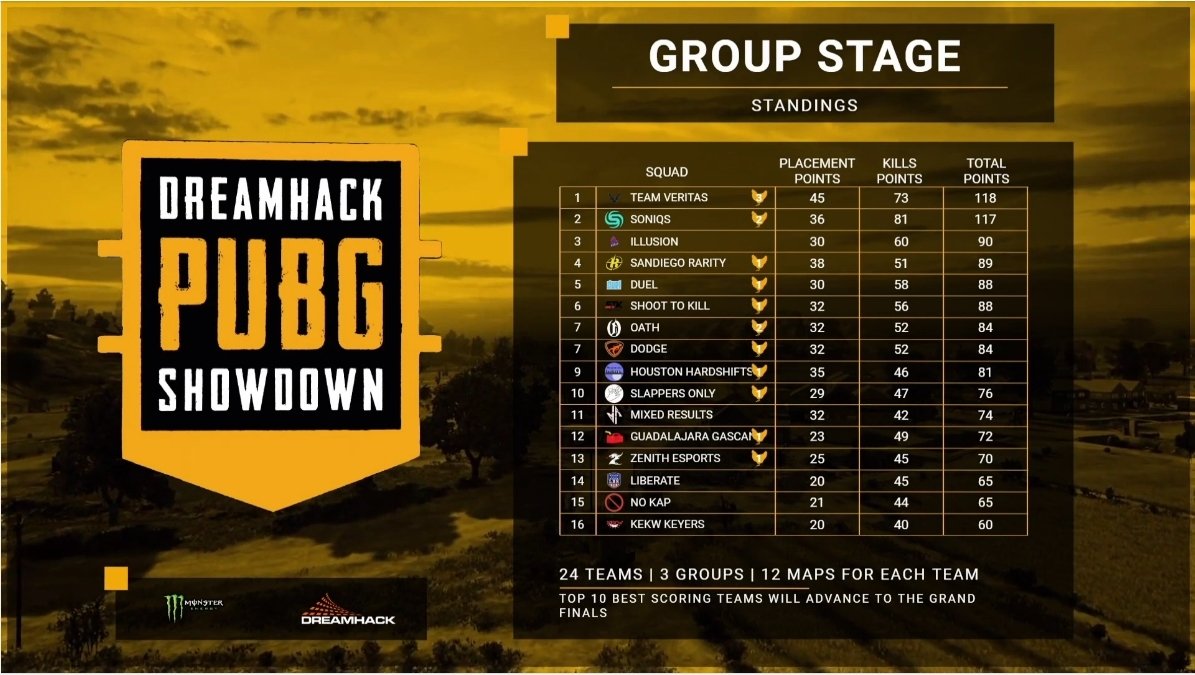 Of the ten North American teams arriving in the Final, it may come as a surprise to some that Round 3 of the Group Stage was not won by the Soniqs, our back-to-back PCS Champs, or Shoot To Kill. Two teams that account for all three of the PCS Group Stage leaders. Actually, having themselves a great run through the previous round, and placing on top was Team Veritas. The squad had a great start to PCS3 but slowly trailed off as the matches progressed. Playing an impressive style of PUBG through Round Three of the Qualifiers, Team Veritas should enter the Final with confidence that they've ironed out any of the issues that plagued them during PCS3.
Taking a look at the ten North American teams competing this weekend, you would be hard-pressed to select a better potential winner than Soniqs, Shoot To Kill, or Oath Gaming. As I mentioned, Team Veritas has already had success during this event, but the Final is always a greater challenge for teams. Especially when you take into consideration the lack of familiarity with six teams from the LATAM region. This will present teams with a new challenge and it will be interesting to see how each team adjusts in-game.
Illusion and San Diego Rarity found success during the previous round as the third and fourth place teams. Each squad has the potential to keep their momentum rolling into the Final but that's much easier said than done. Of the two, Illusion certainly has more experience playing against this level of competition following their PCS3 NA Grand Final run. That said, San Diego Rarity has continued to be one of my up-and-coming teams deserving of our attention. "Inn8" and "Subtle" led them in Kills and Damage Dealt during the PCS3 NA Group Stage and could play a major role in the team's success this weekend.
Fans will also recognize the Houston Hardshifts, DUEL, and Dodge. The trio was productive in the previous round and may have what it takes to be the team to upset their more favored rivals. I believe each team has a roster capable of achieving its goal of winning the DreamHack Winter Showdown, however, they'll need a strong start and a consistent stretch of matches to stick with teams such as Soniqs and Oath Gaming.
For fans that may not have kept up to date with the LATAM region since the last global event, many of the region's most well-known players will be competing this weekend. FURIA Esports will have "raspu" and "rustyzera" at their disposal, while META Gaming rolls out "SzylzEN" and "sparkingg". These will be just a few of the incredibly talented LATAM players descending onto the battleground alongside the NA squads during the Final this weekend. The matches can not start soon enough, PUBG Esports fans are in for a real treat when the action begins at 3 pm PST on Friday, December 18th, and can be watched on twitch.tv/dreamhackpubg.